Apple have always competed with Microsoft, other computer manufacturers and service providers. In the early 1980s they beat Microsoft to bring the Maciontosh, a successful and powerful computer to market, although there is some irony that it ran on code derived from MS-DOS which had been stolen!
Over the years their products have been renowned for being stylish, functional, and easy to use, although their policies have always meant that their services and operating systems are very 'locked in' and to this day their devices do not 'share nicely' with other service providers. Thankfully in 2020 that is changing.
In 2007 Apple launched the iPhone, and overtook Microsoft as the major provider of 'computers in pockets.' Indeed in 2019 Bill Gates, the founder of Microsoft, stated that he had taken his eye off the ball regarding the mobile space because of fighting global anti-trust lawsuits resulting from his decision to [a] get a computer into every home and business and [b] link the Windows operating system seamlessly with it's browser, Internet Explorer. The phone-specific versions of Windows (Windows CE, Windows Phone and Windows Mobile) were vastly behind the capabilities of Apple's iOS and the new Android OS from Google. However it is ironic that Android has now overtaken iOS as the most popular phone OS globally.
With their clever branding, calling their mobile phones iPhones, and their tablet computers iPads, their brand names became global words to describe all smart phones and tablet computers. Unfortunately this meant that some people were confused - thinking they had bought an iPad when in fact they had bought either a Windows or Android tablet.
Apple is different to other manufacturers. They don't build devices for anyone else, and neither do they allow any other manufacturer to release their products that use their operating systems. This means they have much more control over the items they sell, but it means much less choice and variety, particularly on cost, for consumers and businesses alike.
Apple users really like Apple's products and services, but for a long time now I have personally thought that they are extremely over priced and although the build quality is excellent generally, their specifications are considerably below-par compared with what is now available in Windows 10, and their operating systems (macOS and iOS) seem very dated and restrictive to use.
In 2019 Apple had major problems with failures in their designs. Keyboards on their MacBook computers kept failing and there have been multiple problems with the 13th version of iOS that powers their phones and tablets. These problems are similar to the ones that Apple always criticised Microsoft for, and yet Apple only makes its own products, and so the polish seems to be fading.
I have an iPhone and a MacBook because I require them for teaching purposes. They are not the newest models because I could not justify the cost, but they do enable me to access and use Apple features and services and assist clients with using things like Apple Music and iCloud, but every time I use Apple products I am frustrated. The user interfaces seem so old fashioned, things don't work as I expect them to, and the continuous bombarding via messages for security info is ridiculous. The keyboard has so many keys for UK English in the wrong places, there's no right-click option by default, and on my iPhone there is no back button - for someone who is dyspraxic it is so cumbersome.
I do appreciate the quality of build, and can see how their devices became popular, but compared to other offerings from manufacturers including Microsoft, Google, HP, Samsung, Lenovo, Dell and others on Windows and other platforms the offerings from Apple are very backward now.
In 2020 Apple were touting the iPad Pro as a 'replacement for your computer' which almost copies Microsoft's claim that their Surface Pro could replace your laptop. The former just isn't true. Several of my clients bought new iPads believing they could do everything they needed on them, but iOS is a mobile operating system, it isn't up to the capability of what is required on a computer - particularly at the time because it didn't fully support mouse and keyboard control.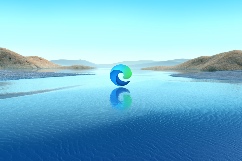 If you are frustrated by the things you can't do with your iPad or iPhone, and you use a Windows 10 computer, I would be very happy to assist you with installing and setting up Microsoft Edge, OneDrive and other apps to make things much easier and simpler.
The new Microsoft Edge Browser is now available for Windows 10, Windows 8/8.1, Windows 7, macOS, iOS, Android and Linux. For best results you can link it to a Microsoft Account but this is optional. At last, thanks to Microsoft, everyone can have one Browser that is based on open source code, developed on an ongoing basis, and unlike Chrome is not tied to Google services, giving users total control over their privacy.
#SeeTechMoreClearly Enquire today!