Android was first launched by Google in September 2008 as a mobile operating system for their range of mobile devices including phones and tablets. Unlike Microsoft Windows or Apple's policies, Android was created as on "Open Source" model that meant that anyone could assist with its development, but anyone could also take the basic code for Android and make a 'Fork' to customise it to their own needs.
Android is now the most popular mobile operating system, with over 2 Billion active devices around the world (almost the same dominance as Windows 10 on computers and tablets in 2020.)
In the UK you can pick up a cheap and cheerful smartphone running Android for about £40.00, but most people probably spend £100-£200 for a device with better power, speed, battery life, safety, build quality and camera. Top of the range models cost over £1000.
Buying an Android phone is a complicated decision because there are so many different choices available. Do you wish to find a good all-rounder for every day life? Would you prefer to keep to 'Pure' Android and so buy a handset made by Google (such as the Google Pixel), or what about the Market Leader Samsung who are known for quality and innovation (but whose phones suffer because so many Google Apps are duplicated by Samsung but cannot be uninstalled)? My preference is to buy Motorola phones made by Lenovo. They have a great heritage, they are built solidly, they are priced fairly, they do not suffer from bundled software (bloating) and have some innovative features too.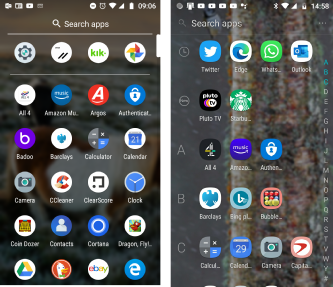 I recommend using Microsoft Launcher, especially if you use Windows 10. It is beautifully designed, effortlessly links your Android Phone with Windows 10, and provides several enhanced features compared to the standard Google or phone manufacturer's launchers.
As a small example, the images on the left show the difference between how Microsoft Launcher shown on the right displays all the apps on your phone.
Standard Android Launchers show apps in alphabetical order filling whole pages that are swiped left or right - it is all a bit confusing.
Microsoft Launcher can be configured to show a clear alphabetical list that scrolls vertically.
#SeeTechMoreClearly specialises in configuring devices to suit your needs and to make using them simple and pleasurable.

Amazon Fire tablets run a customised version of Android that means they are much simpler and easier to use than normal Android based devices.
They include the standard Google Play Store so that all Android Apps can be installed and used on them, but they are also linked to the Amazon store which includes several special apps created by Amazon specifically for their tablets.
Amazon Fire tablets also include a special Browser to ensure that content is tailored specifically to the screen size and technology within the tablet, meaning that other Amazon Services such as Kindle Books, Audible audio books, Amazon Music and of course Amazon Alexa devices all work seamlessly.
All the services stated above for Android Devices are available for Amazon Fire tablets too.
Contact Us
#SeeTechMoreClearly provides the following support and assistance with Android Devices:
Tuition and support, in person, over the phone and remotely online

Help with setting up your phone or tablet and configuring it to either Google or Microsoft (or both) to get the most from it.

Assistance with tweaking your system settings to match your needs

Support with investigating and resolving operating issues and problems

Setting up apps, possibly disabling the built in standard Google Apps and replacing them with alternatives to allow synchronisation with your Windows computer more easily, such as replacing your phone's launcher with Microsoft Launcher, its Browser with Edge and its Mail app with Outlook, and configuring your phone to upload photos you have taken to OneDrive automatcially.

Configuring your phone to provide the best experience online and linking it with Windows 10 so that favourites, browsing history and settings are preserved across devices.

Advising on using OneDrive to manage documents (including Word and Excel files) and photos shared between connected Windows 10, Android and iOS devices.

Setting up Skype on your phone so that it works seamlessly between Windows and Android or other platforms.

Introducing you to the YourPhone App on Android and Windows 10 to allow you to send and receive calls and texts when your phone is near your Windows 10 devices, and manage photos on your phone and notifications from your phone on your computer.

Keeping your phone clutter-free and working effectively via the Google Files app or alternatives.

Assistance with utilising the Play Store and other Google Services including YouTube and Chromecast